By Yichuan Zhang
Amid Russia's invasion of Ukraine, all eyes have been on the disruption of energy pipelines connecting Russia to Europe via Ukraine. Few have paid much attention to the the Eurasian railway networks disrupted by the war.
Historically, Ukraine has been a key railway conduit into Europe for Russia and China, and its importance has only become more amplified in recent years.
There has been a significant reduction in transit of goods between China and Europe since the start of Russia's war on Ukraine.
One key route that has been disrupted is known as the China Railway Express route.
As the South China Morning Post reported: "It does not travel along a single route, but a network of railways that span over the two continents- departing from China, passing through Central Asia and finally arriving in western Europe – mirroring the ancient Silk Road. The first train departed in 2011, from Chongqing in southwestern China to the German city Duisburg."
As SCMP reported: "The coronavirus pandemic, which has snarled port operations globally, caused massive shipping delays and
sent sea freight costs soaring,
has also driven many exporters and importers to explore trains as a transport option."
More from the SCMP article below:
"The eastern, central and Western corridors are the three major routes for the CRE."
The central route carries goods made in central China, as well as southern coastal provinces such as Guangdong – the manufacturing powerhouse of the country.
RFERL reports that the Middle Corridor route has emerged as a key alternative to routes that once passed through Russia. (see below)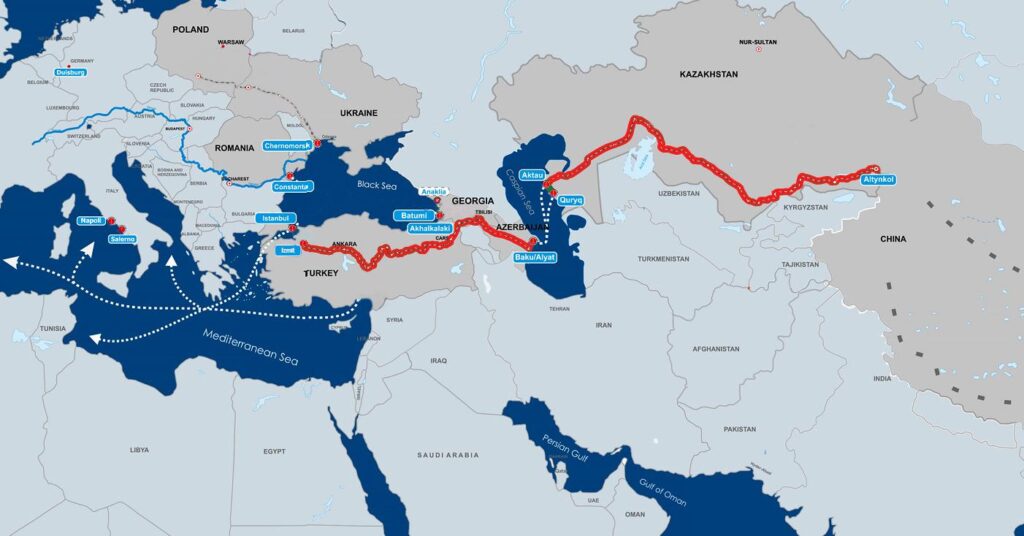 RFERL writes:
In 2018, Russian President Vladimir Putin ordered the state monopoly Russian Railways to substantially grow container traffic and — prior to its invasion of Ukraine — Moscow said it expected container flows to increase to 3.6 million boxes by 2035.

During that span, Beijing worked hard to subsidize, promote, and make profitable those railway lines and the efforts led to a 50 percent increase in cargo transported in 2020, a marked improvement from only a few years previously when trains mostly ran empty on the eastward route back to China.

As transit across Eurasia grew, the northern shipping route through Russia was boasted about as a BRI success story, with Chinese officials saying that it "provided continental supply chain stability."
But with many large companies and shipping firms unable or unwilling to rely on transport through Russia, a substantial hole has been created and many governments are trying to capitalize by filling it.

Kazakhstan has announced plans to invest more into its ports along the Caspian Sea and its state-run railway operator Kazakhstan Temir Zholy reported that terminals along its western coast have already doubled their shipping volume.

Chinese officials have also moved to simplify transport, with Wang Lingjun, deputy minister of China's General Administration of Customs, saying on May 25 that Beijing is improving its customs procedures at the Alashankou and Khorgos land ports on its border with Kazakhstan that would lead to increased volumes of goods being sent by rail.While the Middle Corridor is experiencing a boom because of the war in Ukraine, its future viability is far from guaranteed, says Emil Avdaliani, the director of Middle East studies at the Georgian think tank Geocase and a professor at the European University in Tbilisi.

Concerns largely stem from higher costs and more complicated logistics on the southerly route. While critical infrastructure is in place, some of which is the result of BRI projects, the geography of the Middle Corridor — which consists of sea and land lines — is more complex.
Meanwhile, according to RailFreight.com, China now views Budapest, Hungary as a key gateway to Europe. RailFreight.com reports below:
"In China, rail freight operators consider Budapest as one of the rail freight main hubs in Europe. Although traffic is now diverted via Malaszewicze due to the war in Ukraine, it is still consolidated in the Hungarian capital. Luo described the advantages of Budapest as "the operating capacity of the terminals and the available routes leading to the city". "Especially before the outbreak of the Russian-Ukrainian conflict, there was a direct line from China to Budapest. Starting from Xi'an, China, passing through Kazakhstan, Russia and Ukraine, cargo used to be reloaded to European gauge at the border port of Zahony in Hungary."
You can watch the full video of the interview here below
It has by now become clear that railways have emerged as an important part of China's trade with Europe. As the Ukraine war drags on, new networks and routes will grow and build.